Welcome from the President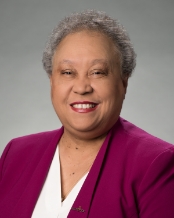 Welcome to the website for the Southern Association of Colleges and Schools Commission on Colleges, better known as SACSCOC (pronounced SACS see-oh-see). The website was designed for you to be able to find information about (1) our member institutions, such as, when they were initially accredited, when their next reaffirmation is scheduled, where they are located, who their president is, and other useful information; (2) the policies, processes and publications of SACSCOC; and (3) other information relevant to the accreditation of our member institutions.
We have responsibility for assuring the educational quality and improvement of the effectiveness of our member institutions located throughout eleven (11) southern states (Alabama, Florida, Georgia, Kentucky, Louisiana, Mississippi, North Carolina, South Carolina, Tennessee, Texas, and Virginia), several international institutions, and all of their approved locations (including branch campuses and off-campus instructional sites irrespective of their location) that grant associate, baccalaureate, master's and doctoral degrees.
When an institution has earned accreditation by SACSCOC, it signifies that it has "a purpose appropriate to higher education and has resources, programs, and services sufficient to accomplish and sustain that purpose." In addition to ensuring that our institutions provide quality programs for students which determines eligibility for Title IV funds (student financial aid), SACSCOC works to influence legislation and regulations that impact the work of our member institutions.
Our accrediting process and all of its policies, processes, procedures, and decisions are based on the concepts of integrity or dealing openly and honestly with the member institutions with which we work, and quality or an on-going program of improvement that ensures fulfillment of their stated mission.
Founded in 1895, The Southern Association of Colleges and Schools is currently comprised of the Council on Accreditation and School Improvement (CASI) and the Commission on Colleges (COC). The Commission on Colleges was founded in 1917 and was organized to develop standards and a process for accrediting colleges and universities in the South.
In addition to information about SACSCOC, we have provided links to the other regional accrediting agencies, the Council for Higher Education Accreditation (CHEA), and the Association of Specialized and Professional Accreditors (ASPA) for your convenience. I encourage you to peruse the information provided here and to let us know how we might better serve you.
Sincerely,
Belle S. Wheelan, Ph.D.
President